Coming Saturday, January 27, 2024
Tromblow'in 2023 Photo Gallery
Enjoy these images shot by award-winning music photographer, Bob Adamek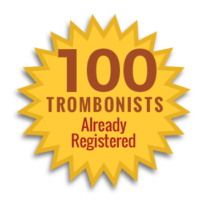 On Saturday, January 28, 2023 we welcomed Marshall Gilkes as our featured guest artist. | Multiple Grammy nominated trombonist/composer Marshall Gilkes integrates myriad influences into a singular and distinctive voice, combining the spontaneous invention of jazz with the elegant architecture of classical composition and virtuosic technique with passionate emotion. His sound can be heard in the lush impressionism of the Maria Schneider Orchestra; the unique Slide Monsters Trombone Quartet; and on Monday nights at the world famous Village Vanguard as lead trombonist with the Vanguard Jazz Orchestra. He has conducted his music with the WDR Big Band, UMO Jazz Orchestra, Airmen of Note, and Army Blues. He's also performed with Makoto Ozone, Billy Cobham, Richard Bona, and Edmar Castañeda. A finalist in the Thelonious Monk International Jazz Competition in 2003, Gilkes has released six albums as a leader. The latest, Waiting to Continue showcases Gilkes playing and writing in a trio setting. He is a graduate of the Juilliard School and is an S.E. Shires Artist.
A Tradition of Excellence
Since 2008, Tromblow'in has attracted a world-class faculty of professional trombonists.