Our Most Recent Tromblow'in was Saturday, January 18, 2020
Another Successful Workshop!
We enjoyed our largest Tromblow'in on Saturday, January 18 at JMU and despite fighting a cold that left her literally "speechless", CAROL JARVIS wowed the attendees with her drive, passion, musicality and vision. Thanks to our wonderful faculty for 2020 including Virginia Tech's Dr. Jay Crone, The VCU Trombone Choir & Friends under the direction of Dr. Ross Walter, Dr. Antonio Garcia for "cutting the changes" with an engaging jazz improv workshop, and the JMU Trombone Choir under the direction of Dr. Andrew Lankford. Special thanks to Shen-Valley Band Instruments, Conn-Selmer Musical Instruments, Michael Rath Trombones, The JMU College of Visual and Performing Arts and the School of Music, and the JMU Forbes Center and it's world-class technical and production staff. Please enjoy a few of the many fine images captured by award-winning concert photographer, Bob Adamek.
[All images ©2020 Bob Adamek for Mr. Jefferson's Bones, all rights reserved.]
Photos from Previous Tromblow'in Workshops
A Full Day Workshop for Trombonists of All Ages.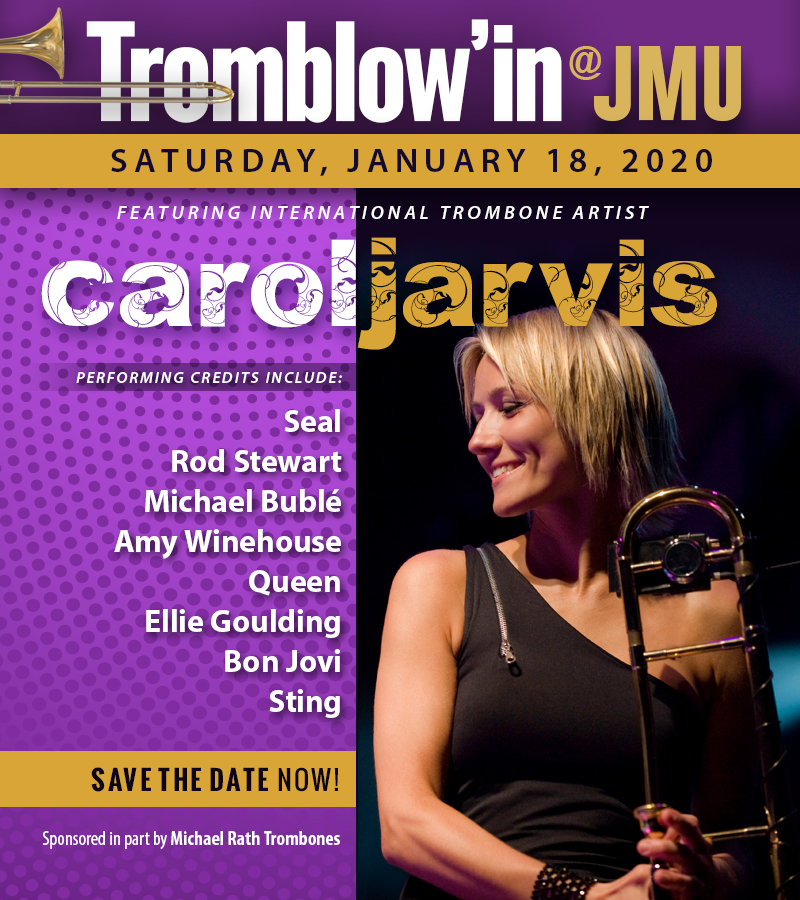 Tromblow'in 2020 — our 12th edition —  was Saturday, January 18, 2020 at JMU's Forbes Center for the Performing Arts. A day filled with clinics, group performances, short recitals, instrument and music displays and hands-on instructional workshops and this year, we are welcomed the legendary international trombone sensation, Carol Jarvis! We ended the day with a Grand Concert that featured performances from our world-class featured artists, your host ensembles — Mr. Jefferson's Bones and the James Madison University Trombone Choir – and a finale mass trombone choir that exceeded 100 players!
We're serious when we say this is an event for all ages and abilities — from middle school beginners to professionals and retired "weekend warriors" — Tromblow'in has something for every player!
"I do quite a few of these festivals and I'm not blowing smoke when I say this is definitely what the other festivals are trying to be."
CHRISTOPHER BILL | WORLD-RENOWNED TROMBONIST AND YOUTUBE SENSATION

This is a casual, day-long festival where trombone players of all ages — beginning middle school students, high school and college players, professionals, and weekend warriors alike — share their love and enthusiasm for music together. You'll enjoy a Pre-Session group warmup and Sight-Reading Session; master classes and workshops from CAROL JARVIS and Jazz Improv master ANTONIO GARCIA; an afternoon recital from the VCU TROMBONE CHOIR & FRIENDS under the direction of ROSS WALTER; vendors with music and new trombones to try (and buy); and an opportunity to perform in our mass trombone choir!

Our typical schedule includes multiple playing experiences, informative workshop topics and is designed to give you time to test drive some new horns!
Early start time (10:00 a.m.) for the added "Pre-Session" for warmups and sight-reading sessions.
One main session of workshops and recitals in the afternoon starting at 12:30 p.m.
Dinner break (on your own — we're not feeding you this year, sorry)
A commemorative Tromblow'in T-Shirt for sale as an add-on!
Grand Concert starts at 7 p.m. (finished by 9 p.m) FREE and open to the public (invite your friends and family). Performances include Mr. Jefferson's Bones, JMU Trombone Choir, featured professionals and the Mass Trombone Choir made up of all workshop participants.
A Full Day of "Everything Trombone"
(All Workshop events are held in JMU's Forbes Center for the Performing Arts room 1115)
9 a.m. Registration and Displays Open 
10 a.m. Group Warmups with DR. JAY CRONE, professor of trombone at Virginia Tech and principal trombonist of the Roanoke Symphony and Wintergreen Festival Orchestra. [Special Middle School warmup and rehearsal session with MEGAN HENDRIX  and BECCA BAUER held concurrently from 10-11;30 a.m.]
10:40 – 11:30 Sight Reading Session conducted by JMU Music Education Students
11:30 a.m. BREAK FOR LUNCH* – on your own – AND DISPLAYS *Note: We recommend packing your lunch so as not to miss any of the activities!
12:30 – 1 p.m. Mass Trombone Choir Rehearsal
1 – 2:15 p.m. Featured Artist Clinic with CAROL JARVIS
2:15 – 2:30 p.m. BREAK
2:30 – 3:30 p.m. Afternoon Recital with VCU TROMBONE CHOIR & FRIENDS
3:30 – 3:45 p.m. BREAK
3:45 – 4:30 p.m. Afternoon Clinic on Jazz Improvisation with ANTONIO GARCIA
DINNER BREAK 4:30 – 6:30 p.m. (on your own)
Grand Concert 7–9 p.m. Free and open to the public
A World-Class Venue
Experience JMU's Forbes Center for the Performing Arts as a student and a performer! You'll spend the day in the largest rehearsal hall on the main floor of the Forbes Center, room 1115. Then we move upstairs to the state-of-the-art Forbes Concert Hall, where (and your friends and family) will have great seats for the featured performances. Then you'll take the stage as we finish the Grand Concert with our 80+ member Mass Trombone Choir.
World-Class Trombonists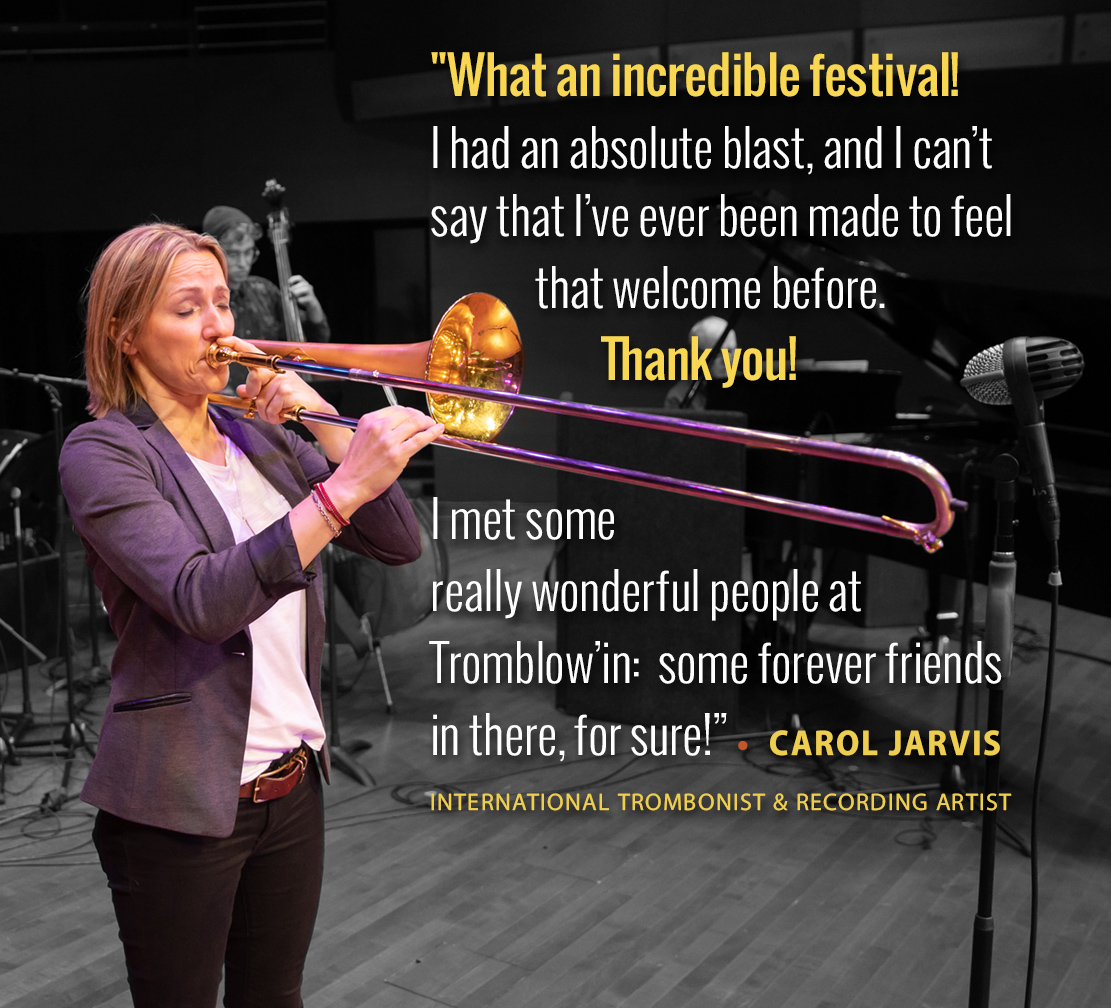 Tromblow'in is proud to have been able to bring in world-class artists and ensembles since its very first workshop in 2008. Our roster of guest artists and educators has included:
Sim Flora | Rick Simerly | Antonio Garcia | The 804 Trombones (Reggie Pace, Tony Garcia, Bryan Hooten and Stefan Demetriadis) | Nathan Dishman | The Morehead State University (Kentucky) Trombone Choir | Nathaniel Lee | Matthew Guilford | Jeannie Little | Sam Woodhead | Natalie Mannix | Wycliffe Gordon | Weston Sprott | Scott Shelsta | The Airmen of Note Trombone Section | The Washington Trombone Ensemble | Jeff Cortazzo | Michael Davis | Reginald Chapman | Christopher Bill | Dave Lambert |Jay Crone | Kevin Chiarizzio | Brett Baker | Matt Yates | The Trombonistas por Puerto Rico
JMU Trombone Choir
The JMU Trombone Association (JMUTA) serves as a supporting organization for the brass area and trombone studio of the JMU School of Music.
It officially became an affiliate chapter of the International Trombone Association in 2001, and has been recognized as an official student organization since that time. Through the fundraising and organizational efforts of JMUTA, we strive to improve the artistic level of performance, teaching, literature, and appreciation of the arts. Specifically, funds raised through the efforts of JMUTA are to be used for expenses associated with guest artists, purchase of new music for the JMU Trombone Choir, and commissioning of new works. In addition to our efforts here at JMU, we strive to assist in the planning and funding of trips and conferences.
Our Mass Choir Makes 76 Trombones Look Small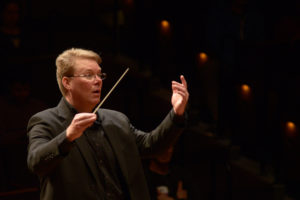 Over the last five years, our Mass Trombone Choir has grown to over 110 trombonists! We perform two pieces for the finale of the Grand Concert. Following our long-established tradition, one of the pieces will be a Tromblow'in-commissioned arrangement of the famous American folk song, Shenandoah. We also perform at least one other rousing number that sounds amazing with a large ensemble — such as Fanfare for Trombones, 76 Trombones, Lassus Trombone, Theme from Game of Thrones, etc. Accessible parts have been arranged for players of all abilities. We assign parts according to skill level (i.e. younger students will have easier parts to play, no super high notes, all in bass clef, etc.)
TO REVIEW/PRACTICE PARTS IN ADVANCE please register and we will email you music to practice in early January, days in advance of the workshop (as posting parts is uncool and a violation of copyright laws). Thanks!
JMU's Forbes Center for the Performing Arts
All events for Tromblow'in are bring held at JMU's Forbes Center for the Performing Arts. For specific driving directions, please click on the green-color "Forbes Center" marker in the map below. The street address for the Forbes Center is 147 Warsaw Ave. or 871 S. Main St., Harrisonburg, VA 22807. Parking in the Warsaw Parking Deck is free, and on Saturdays you can park in any spaces (including staff/faculty) with no special permits required.