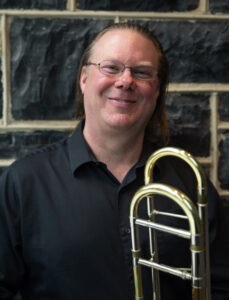 Andy Lankford
Andrew Lankford, Professor of Trombone at James Madison University, holds the B.M. in Music Education from the University of North Carolina at Greensboro, the M.M. in Trombone Performance from the University of Kansas, and the D.M.A. in Trombone Performance from the University of North Carolina at Greensboro. His primary teachers include Randy Kohlenberg and Max Bonecutter.
Prior to his joining the faculty of James Madison University in 2001, Dr. Lankford held teaching positions at Louisiana Tech University, Armstrong Atlantic State University, and the University of North Carolina at Greensboro. In addition, he has served on the faculty of the Sulzbach-Rosenberg International Music Festival in Germany and the Taller de Música para Trombonistas in San Juan, Puerto Rico. Currently, he is principal trombone with the Waynesboro Symphony, trombonist with the Madison Brass, and a member of Mr. Jefferson's Bones.
He has performed with numerous ensembles including the North Carolina Symphony, Longview Symphony, Winston Salem Symphony, Greensboro Symphony, Lynchburg Symphony, Shenandoah Symphony, Brevard Chamber Orchestra, and the Kansas City Boulevard Big Band. From 2001 – 2015, he was the principal and solo trombonist with the Massanutten Brass Band.
In addition, he has performed with notable commercial artists including Wayne Newton, Gladys Knight, the Temptations, Margaret Whiting, and Kevin Mahogany. As a soloist, he has appeared at the American Trombone Workshop, the Kennedy Center for the Performing Arts, the Virginia Music Educators Association Conference, and as featured soloist with the JMU Symphony Orchestra, JMU Brass Band, Massanutten Brass Band, JMU Wind Symphony, JMU Jazz Band, JMU Symphonic Band, JMU Concert Band, Armstrong Community Band, UNCG Symphony Orchestra, and Louisiana Tech Jazz Ensemble.
Robert Mott
MJB founding member Robert Mott holds a B.F.A. in graphic design from the University of Arizona where he attended for four years on a music scholarship. At Arizona, he studied with Tom Ervin and more recently with Jeff Cortazzo, former bass trombonist with the U.S. Army Blues; Matthew Guilford, bass trombonist with the National Symphony Orchestra, Washington D.C., and Harold Van Schaik, bass trombonist with The Florida Orchestra, Tampa. Notable performances include Chris Brubeck's Concerto for Bass Trombone and Orchestra with the Waynesboro Symphony (April 2010); backing artists including Gladys Knight, The Temptations, and Sammy Davis, Jr.; and ensemble credits that include Opera on the James, Roanoke Symphony Pops, Shenandoah Symphony, Charlottesville Symphony, Valley Wind Ensemble, Virginia Consort and The Vosbein-Magee Big Band, among others.
In 2018, Robert founded the musical relief outreach, Trombonistas por Puerto Rico, which took 8 trombonists (and a new age sousaphone player) from the mainland U.S. to Puerto Rico for 5 days of free concerts, workshops and general camaraderie. Robert has decades of experience in church music programming and  has recently produced three "Jazz Worship at Allen Chapel" services with Rev. Dr. Edward A. Scott (2019, 2021 and 2022), which featured the music of  Thelonious Monk, John Coltrane, Miles Davis, Wayne Shorter, Bill Evans, J.J. Johnson, Duke Ellington and other serious jazz artists in a worship service setting. Mott is also an active arranger, composer and a member of ASCAP.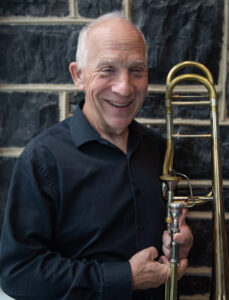 Tom McKenzie
Tom McKenzie received his Bachelor of Music Education and Master of Business Administration degrees from James Madison University. At JMU, he studied trombone with George West and jazz with Gunnar Mossblad, George West, and Pete Spaar. Currently, he freelances with a number of musical groups in the area, playing many different styles, including the Waynesboro Symphony Orchestra, The Tom McKenzie Jazz Quartet and the funk/party band "Everyday People". Tom directs Just Jazzin', a volunteer community big band based in Harrisonburg, VA. In addition to an active music schedule, he is a computer programmer employed with the Crutchfield Company of Charlottesville, VA.
Jay Crone
Jay Crone joined the Virginia Tech faculty in 1994 and is Principal Trombone of the Roanoke Symphony Orchestra, the Wintergreen Festival Orchestra, and the Shenandoah Valley Bach Festival Orchestra. He has appeared as a soloist and chamber musician in Europe, Asia, South America and at the American Trombone Workshop and Southeast Regional Horn and Tuba/Euphonium Workshops.
Crone has also been a collaborative pianist in recitals throughout the United States, including performances with former members of the Atlanta Symphony Orchestra and Boston Symphony Orchestra, and current members of the Philadelphia Orchestra and Florida Orchestra, among others. Crone holds degrees from the University of Southern California, Yale University, and California State University at Fresno.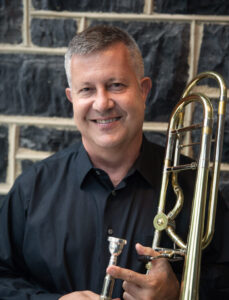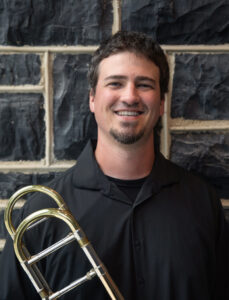 Kyle Remnant
Kyle Remnant currently serves as director of bands at Eastern Mennonite University in Harrisonburg, Virginia, as well as adjunct professor teaching positions at Bridgewater College and James Madison University, where he earned his DMA under Dr. Andrew Lankford. Additionally, Kyle directs the jazz band at Harrisonburg High School. Kyle's performing credits include Waynesboro Symphony Orchestra, the Charlottesville and University Symphony Orchestra, Staunton Music Festival, and performances with the Middletown Symphony Orchestra in Ohio.
We'd love to discuss your live music needs.
Please use this form, or call Robert at 540-290-1677. Thanks!